Philadelphia Classical Guitar Society
The Philadelphia Classical Guitar Society is a community of guitar enthusiasts of all ages and accomplishments dedicated to encouraging the appreciation, study, and performance of classical guitar music in the Greater Philadelphia Region.
---
---
A SPECIAL EVENT ~
CLASSICAL GUITAR MEETS CLASSIC WINE
We would like to invite you to participate in the below program entitled, Classical Guitar meets Classic Wine on Sunday May 15th, at 3 pm. We are excited about partnering with the German Society of Pennsylvania to pair classical guitar music with curated flights of wine. Germany has a long tradition of great classic music composers, a thriving classical guitar culture, as well as a history of building fine classical guitars, like the Munich-based Hauser family, now in its third generation. And Germany also makes some excellent wines.
The audience is being asked to appreciate the wine while listening to live classical guitar performance, including Alejo de los Reyes, John Williams, William Newman and John Penn, all of whom have performed for the PCGS in the past. There will also be a professional sommelier present to introduce and discuss the wines. As such, the relationship between music and wine can serve as a catalyst for enlightenment and conversation, and of course fun! Reserve your seats now!
Proof of vaccination is required to attend, so please bring your vaccination card (or a clear photo of it) and a valid ID. The Solo Classical Guitar Program includes:
Flight Germany
Cello Suite No. 1 Prelude (Germany – BWV 1007 by J.S. Bach, 1685 – 1750)
Lute Suite Allemande (Germany – BWV 996 J.S. Bach, 1685 – 1750)
Flight Austria
Ständchen "Lied" (Austria – D.957 by F. Schubert, 1797 – 1828)
Flight Italy
Passacaglia (Italy – Ludovico Roncalli, 1654 -1713)
Caprice No. 9 (Italy – Luigi Legnani, 1790 – 1877)
Flight Around the World
Zamba de Vargas (Argentina – Traditional)
Siguiriyas (Spain – Traditional Flamenco)
Granada (Spain – Isaac Albéniz,1860 – 1909)
Asturias (Spain – Isaac Albéniz,1860 – 1909)
Tickets are limited and can be purchased below. The cost is $48 and includes approximately seven flights of wine.
.
Classical Guitar meets Classic Wine, Sunday May 15, 2022 – 3:00 pm
German Society of Pennsylvania, The Barthelmes Auditorium,
611 Spring Garden Street, Philadelphia
Questions? Contact Eric Zillmer at zillmer@drexel.edu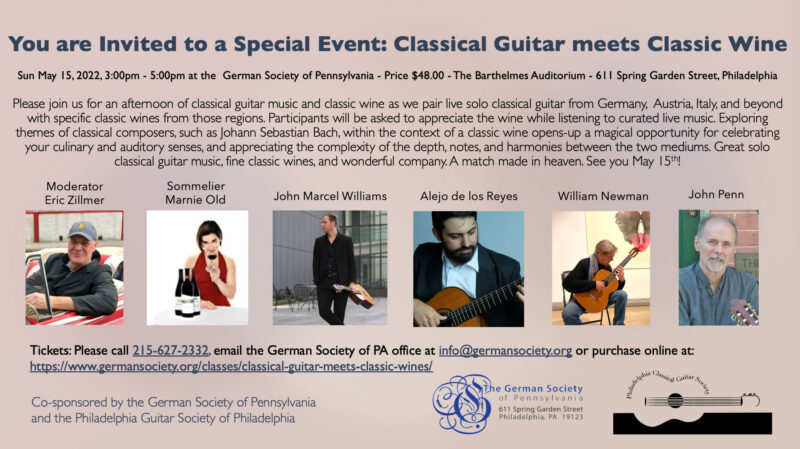 _
SPRING CONCERTS
REGISTER NOW
Saturday
April 9, 2022
7:30 PM EDT
Philadelphia Episcopal Cathedral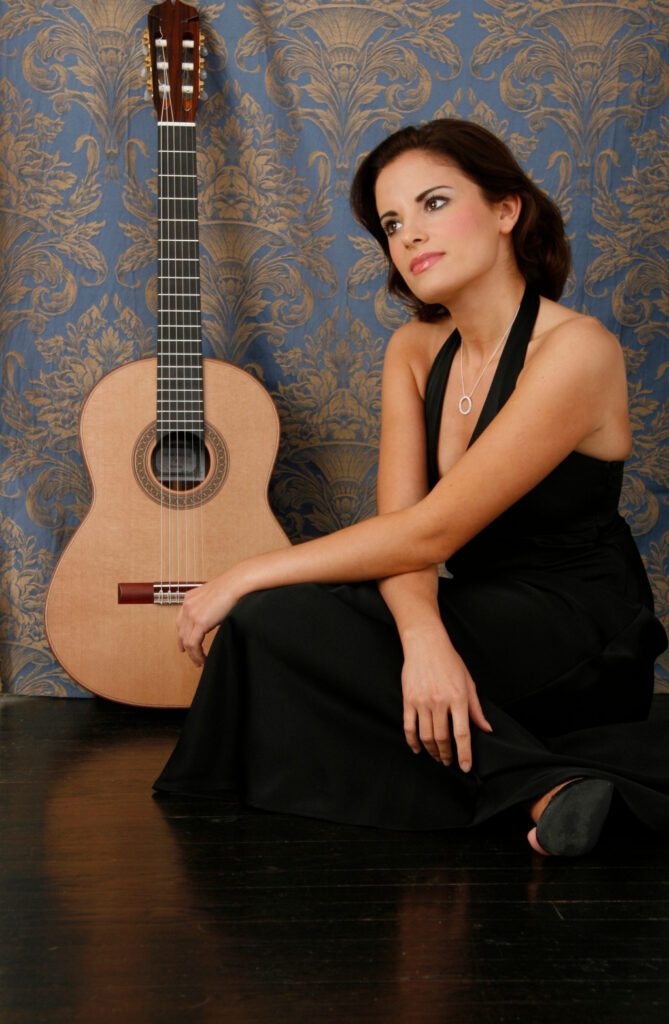 ---
Season & Festival Partners/Sponsors