2023 Philadelphia Classical
Guitar Festival
April 22-23, 2023 (Sat.-Sun.)
SATURDAY APRIL 22, 2023 –
Philadelphia Episcopal Cathedral
SUNDAY April 22, 2023
FESTIVAL DAY
from 9 am to 5 pm –
Settlement Music School – Mary Louise Curtis Branch
416 Queen St. – Philadelphia PA
THE FESTIVAL PASS GIVE ACCESS TO ALL THE ACTIVITIES BELOW
PCGS Classical Guitar Competion (Junior and Adult ties)
PCGS Guitar Ensemble concert (program below)
Students Recitals
Workshops (descriptions below)
Jason Vieaux Masterclass
Alan Liu closing concert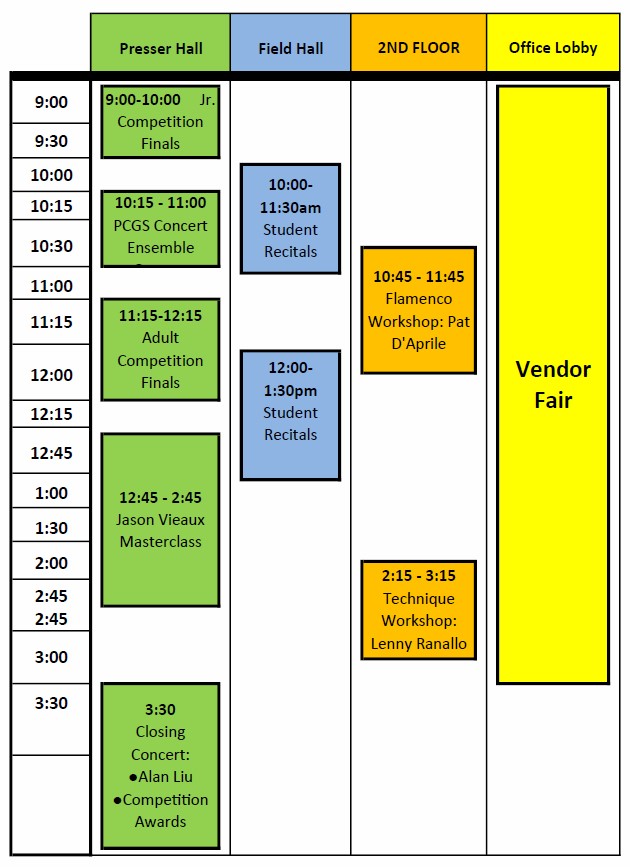 Vendor Fair
Sunday, April 23, 8:30am-3:30pm @ Settlement Music School, Upper Lobby
Vendors: The Classical Guitar Store (Philadelphia), Bruce Thompson (Luthier), Pizzicato Players Ensemble
Sunday, April 23, 9:00am (Junior) & 11:15am (Adult) @ Settlement Music School, Presser Hall
See the culmination of our competition as the finalists in two categories vie for their place in history.
Competition Organizer: Ross Mann
Final Round Jurors – Jason Vieaux, Ross Mann, Behdad Moghadassi, Emiliano Pardo Tristan, Lenny Ranallo
Student Recitals
Sunday, April 23, 10:00pm & 12:00pm @ Settlement Music School, Field Hall
Come see PCGS guitarists perform as well as students of PCGS professional members.
Programs can be found at Field Hall for these events. We would like to thank George Attisano, James McKay, and Marlis Kraft for organizing these recitals.
Flamenco Workshop
Sunday, April 23, 10:45am @ Settlement Music School, 2nd floor, room 46
Add new music and style to your repertoire in this hands-on flamenco guitar workshop that will introduce attendees to falsetas Solea and Tangos as well as accompanying Palmas (rhythmic clapping). All participants are welcome to observe or perform. Bring your guitar and participate in a group performance at the end of the session!
Pat D'Aprile
Guitarist Pat D'Aprile has studied in Madrid at the conservatory Amor De Dios, Cordoba at the International Festival of Guitar and Dance, Jerez at the Antonio El Pipa and Maria del Mar Moreno summer workshops and in San Lucar de Barrameda with Gerardo Nunez / Carmen Cortes' Arte Danza Institute.
Pat has a BA in Music Education from Rutgers University. He has also studied jazz guitar with Joe Federico and classical guitar with Joe Mayes.
Technique Workshop
Sunday, April 23, 2:15pm @ Settlement Music School, 2nd floor, room 46
Technique Workshop This workshop will give players of all levels strategies to organize their warm-up and technical practice.
Topics will include:
fundamentals of guitar technique
customizing the routine to your level and schedule
tailoring exercises to your current repertoire
Works referenced will include:
Classical Guitar Technique: from Foundation to Virtuosity By Stanley Yates
Kitharalogus by Ricardo Iznaola
The Bible of Classical Guitar Technique by Hubert Kappel.
Lenny Ranallo
Drawing inspiration from Bach to Coltrane and beyond, American Guitarist Leonard Ranallo seeks to blur the line between composer, performer, and improviser. Equally comfortable in the concert hall or a local club, Ranallo brings a unique vitality to every performance. His fluency in both classical and electric guitar has resulted in performances across the United States and Europe. As a performer, he's been featured at festivals in Italy, Scotland, and the US, and has won prizes in the Buffalo Philharmonic Orchestra's Young Musicians Competition, the Philadelphia Classical Guitar Society Competition, and the James Stroud Competition. In 2012, Ranallo made his professional orchestral debut as a concerto soloist performing with the Buffalo Philharmonic Orchestra. As a composer, he works to incorporate new and expressive sounds and techniques into the guitar vocabulary. Ranallo is also a strong promoter of new music, collaborating with composers from the US and UK on new works for classical and electric guitar.
Ranallo completed his Master's Degree at the Royal Conservatoire of Scotland in Glasgow studying under Matthew McAllister and Professor Allan Neave and his Bachelor of Music at Oberlin Conservatory in Ohio under Stephen Aron. He is currently on faculty at the Peabody Preparatory in Baltimore and maintains a private teaching studio in Philadelphia.
Sunday, April 23, 10:15-11am @ Settlement Music School, Presser Hall
Director: Lenny Ranallo (biography above)
Members:
George Attisano
Matthew Kuplack
Thom Shedlock
Shriya Prakash
Eva Nam
Gigi Zhang
Christopher Murray
Sara Sablosky
Chris Hanlon
Bob Christman
Rupesh Jeyaram
PROGRAM:
Les Saisons Japonaises – Takashi Ogawa (b. 1960)
Javier
Avril
Mai
Juillet
Août
Estampas – Federico Moreno-Torroba (1891-1982)
Remanso
La Siega
Amanecer
Camino Del Molino
Jason Vieaux Masterclass
Sunday, April 23, 12:45pm @ Settlement Music School, Presser Hall
Programs will be at the main desk on the day of the festival.
Alan Liu – Festival closing concert
Sunday, April 23, 3:30pm @ Settlement Music School, Presser Hall
"Just wow." – CBC
Chinese-Canadian guitarist Alan Liu is the winner of the 2021 Philadelphia Classical Guitar Competition. He received first prizes in numerous international competitions, including the Mercatali Gorizia, Josefina P. Tuason, Indiana, and Houston International Classical Guitar Competitions, and also won fourth prize in the prestigious Guitar Foundation of America International Concert Artist Competition.
Beginning his musical journey at five, Liu received his first national prize at seven. From 2014 to 2016, he earned several awards in North America and Europe, including first prizes in the Guitar Foundation of America International Youth Competition, Guitare Montreal International Youth Competition, Northwest International Artist Competition, and Federation of Canadian Music Festivals Guitar Competition, as well as additional prizes in the Parkening International Youth Guitarist Competition and Michele Pittaluga Junior Guitar Competition.
Liu is the first and youngest classical guitarist featured in CBC's "30 Hot Classical Musicians Under 30." In addition to concerti performances with the Vancouver Symphony, Prince George Symphony, and Juilliard Chamber Orchestra, he has played in the Seattle, Toronto, and Vancouver classical guitar societies' concert series. Additionally, he has been a featured artist at the Crown International Guitar Festival, Montreal International Guitar Festival, and QinLing International Guitar Festival.
Liu studies with Sharon Isbin at the Juilliard School, receiving the Augustine Fellowship, McCabe Guitar Fellowship, and C. & H. Lewine Scholarship. Liu received his Bachelor's at the Curtis Institute of Music, studying with David Starobin and Jason Vieaux. He is also an alumnus of the Aspen Music Festival.
Alan plays on Augustine Strings and uses instruments made by Martin Blackwell and Altamira Guitars. March
VIDEO – XuKun (Alan) Liu — 2021 ICAC Semi-Final Round
—
PROGRAM
Prelude -Très Viste, BWV 995 Johann Sebastian Bach (1685-1750)
Sonata in D minor, K.1 Domenico Scarlatti (1685-1757)
Variations on a Theme by Scriabin Alexander Tansman (1897-1986)
Capriccio Diabolico, Op.85 Mario Castelnuovo-Tedesco (1895-1968)
Intermission
Un Sueño En La Floresta Agustín Barrios Mangoré (1885-1944)
Cataluña, Op.47 Isaac Albéniz (1860-1909)
Shard Elliott Carter (1908-2012)
Thème varié et Finale Manuel Maria Ponce (1882-1948)
Le départ, Op.31 Napoléon Coste (1805-1883)
—
DONATE TO PCGS TO HELP PROGRAMS LIKE THESE CONTINUE
---