Organized in 1966, the Philadelphia Classical Guitar (PCGS) acquired 501(c)(3) status in 1967, and is today the leading presenter for classical guitar in the city of Philadelphia. The Bill Viola Memorial Fund was established in 2018 to inspire underserved individuals in our community through musical experiences, music instruction, and music education. Bill Viola's life as a teacher and musician in Philadelphia serves as the inspiration for this fund (Bill Viola see bio).
The cornerstone of the Bill Viola Memorial Fund is the education for under-resourced individual and communities in the Philadelphia area that are unable to provide high-quality music education, access to concerts, or assist in instrument acquisition for teaching classical guitar. Thus, the Bill Viola Memorial Fund is designed to improve the lives of our diverse community using the classical guitar as a catalyst, and Bill Viola's love for music and teaching as an inspiration.
PCGS seeks support and donors for the Bill Viola Memorial Fund to reach these objectives.   Make your tax deductible donation today!
Call us any time at 215-567-2972 or email us at president "at" phillyguitar.com to learn more about other ways you can help.
"There is no doubt that the activities of (over) five decades of the Philadelphia Classical Guitar Society have elevated the arts in our City." – Jim Kenney, Mayor, City of Philadelphia.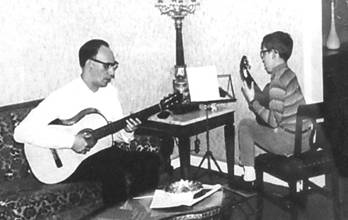 Philadelphia's preeminent classical guitar instructor William (Bill) Viola (1924-2017) was born and raised, lived and died, in South Philadelphia. He often spoke of a flutist who tutored him in the fundamentals of musicianship, but though he was the teacher of countless guitarists in Philadelphia, he himself never benefitted from formal classical guitar instruction. Largely self-taught, the origin of his passion for the instrument remains a mystery.
During the half-century of Bill Viola's tenure as a classical guitar instructor, various currents of pedagogy and aesthetic have impinged on our musical views. But, without ever having had the opportunity to study with Segovia, Bill was in a real sense a devoted disciple of the great Spanish guitarist. Any Bill Viola student could expect to work through much of the maestro's repertoire, published in Schott's 'Guitar Archives' editions. Over the years, Bill studied these scores minutely and collected all of the Segovia recordings as they became available. He cultivated an encyclopedic knowledge of every stroke, approach to phrasing, and musical gesture that the maestro employed. And few indeed were Segovia's Philadelphia concert appearances where Bill did not position himself to observe first-hand the titan's work and artistic presence.
A photo in possession of the Viola family captures a lesson in progress (see above): Bill sitting across from a very young Eliot Fisk in the living room of the Ritner Street row home. This priceless artifact sums up his life of dedication and devotion to the instrument and to teaching. Along with Eliot, his students will also always be aware of having been touched by Bill's influence. When the PCGS was organizing in 1967 Bill was immediately supportive and continued his role from the original Society as Treasurer. The Bill Viola Education Fund honors his legacy and contribution to classical guitar in the city of Philadelphia.